Our Story
The Beginning...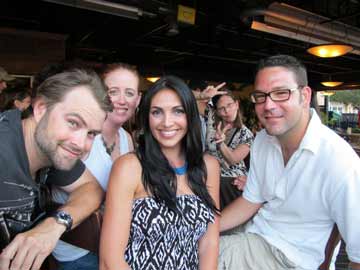 The first time we met was in May of 2010. We had been seated next to each other at our friend's birthday dinner at Mattison's Grille in downtown Sarasota. After a few hours we had discovered that we had a lot in common. We were both surprised that we had never met before that day. There were a ton of jokes and a lot of laughter that night! If you look closely, you can see me in the background "photo-bombing" Todd and the group in our first photo together.
Playing It Cool...
After that night we became friends on Facebook and secretly kept tabs on each other, but never actually made direct contact.
In February of 2011, we accidentally ran into one another at a Beer-Fest & Chili Cook-Off at Phillippi Estate Park. I was photographing the event for a magazine, and Todd was stopping by to check out a band. The moment we spotted each other, there were sparks! We both knew it, with big smiles and greeting with a huge hug.
After that chance encounter, I made the first move, sending a Facebook message to Todd. He responded instantly with his personal phone number. We texted back and forth for about two weeks and then decided to meet up casually one night. We both could tell that we liked each other a lot.
The First Date...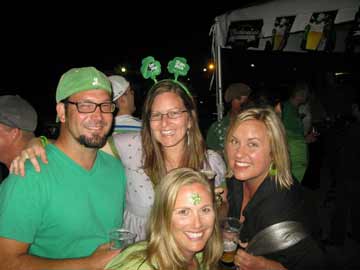 The next time we saw each other was on Saint Patrick's day at the Shamrock Pub. We both were so nervous and excited to see each other again. That night Todd asked me out on our first official date. The following evening we went to dinner, just the two of us, and we both knew this was turning into something.
The Commitment,,,
Fast forward to October 1st, 2012. After a year and a half of dating, Todd took me to Lido beach one night for a sunset walk. This had become our new routine in the evenings, so I thought nothing of it. We got down to the north end and stopped to enjoy the water. That's when he got down on one knee with a ring and proposed. I was giggling, and crying tears of joy, and dove into his arms and said; "YES"!
The Future...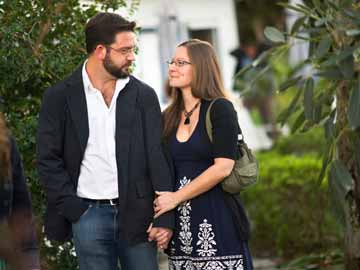 We are so excited for our wedding and for you to be a part of it. We have had such a fun and wonderful journey so far. We can't wait for the rest of our lives together!